I can't believe that I went there. After so many years of seeing Grey's Anatomy on my Netflix feed and my television, I finally began to watch all 15 seasons of the show. I've known about Grey's since forever (who hasn't?) and I have seen episodes here and there. I knew pretty much all of the big things that happened on the show but I just hadn't watched all of the episodes. Last year, I began the process of watching the show but half way through season 3 I got bored and put the show aside. But 2020 was a new year and I decided to challenge myself. As of January 2020, I finished the last episode of season 15. This post ended up being incredibly long so I've decided to break it down into 3 parts: my favorite characters (this post!), my favorite couples, and random thoughts/predictions about the show!

Cristina Yang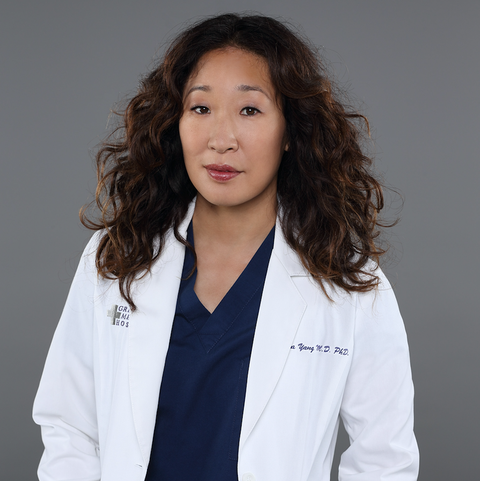 Let's all be honest: Cristina Yang was the best thing that came out of Grey's Anatomy. Sandra Oh is an incredible actress and she brought Cristina to life in a way that I don't think anyone else could have. If there is one thing I love about Cristina it is her unwavering belief in herself. Not just her ability to become a great surgeon but also in her personal beliefs. For example, she never changed her mind about having children and this fact was a huge part of her character arc throughout the show. Personally, I loved that she never gave in, even when she was married to Owen and wanted to do whatever she could to make him happy. She married him, yes, but she would not apologize for not wanting to have children and for that I will always respect her.
I do love so many parts of her characters growth and I think one of my favorites is her romantic relationships. Not because I believe that everyone needs a romantic relationship but because of how they were handled. Falling in love with Preston Burke was a surprise for me and I hate how much he hurt her. What truly blew me away was seeing her handle this situation and eventually finding herself falling for Owen Hunt. I love that she was able to heal her pain from Burke and still be open to being with Owen. Regardless of whatever she went through, however, she stayed true to herself.
Alex Karev
His character development has been beyond mind blowing to me. Who didn't hate Alex when the
show first aired? He's arrogant and sexist and annoying. I wasn't sure how I was supposed to feel about him in the rest of the series but the second he began to fall into pediatrics, I knew that there would be a change in him. And a change there was! Alex has grown so much and has had the best character development in the entire series. People often say that change is the best apology and I think that Alex's change has really made up for his character in the past.
In recent seasons, his relationship with Meredith really solidified into a platonic love that has been incredible to watch. I will say that I haven't always loved what the show runners have done with his character. I know that Grey's is a drama show but some of the things his characters has gone through has been really bad. For example, I really just want Jo and Alex to be happy. I think both of these characters really deserve a happy ending. However, hearing that Justin Chambers has left the show midway through season 16b (the current seasons) makes me wonder how Shonda Rhimes and the rest of the writers/creators are going to wrap up his story. I hope that he is given the send off that he deserves because he's been one hell of a character.
Amelia Shephard
This is one of the most unexpected characters on this list. I did not expect to love her so much. I never watched Private Practice so I didn't get to see her on that show but she's incredible on Grey's. Caterina Scorsone has done such an incredible job portraying her that I don't have the words at times. I really love that we're able to see so many sides of a person with an addiction on the show and that she's not just shown in a negative light. (There is a lot we can say about how a white woman is portrayed on television versus how a woman of color might be but that's another conversation for another day.)
One of my favorite moments of her character arc came when she and her mother were able to have closure. I can only imagine what it must have been like for her to grow up the way that she did. I appreciate that her mother did take some blame for how their relationship deteriorated and if they're able to work through it. I truly do hope that she's able to have her happy ending and that things work out with Link. She deserves happiness and I hope that the show runners give her a break.
Miranda Bailey
I am so glad that Miranda Bailey is still on the show. I'm not
sure what Grey's would look like 15 seasons (16 now) without her in it. She has such an incredibly strong presence and I love all the moments with her. There have been many times when I haven't liked the actions her character made (thank you show-runners) but overall, she's one of the strongest women and strongest characters on the show. When she's introduced at first, she's such a stern resident but she truly cares for her interns even after they're no longer her interns. She's like the mom of all of MAGIC (Meredith, Alex, George, Izzie, and Cristina) and is there to celebrate their wins and help them through the moments where they fail.
I will say that I hope she and Ben end up in a happier place than where they were left off at the end of season 15 (*edit* Well, I wrong. Miranda and Ben went through something that has really hurt them and I'm so sad for them. LET THEM BE HAPPY SHONDA.)
Honorable Mentions
-Ben Warren
When I was developing this list, I found that I kept thinking about Ben Warren, his story line and how much I enjoyed it. I wasn't expecting his and Miranda Bailey's romance but it made me really happy. I loved how much he supported Miranda and whatever she wanted to do but he also followed his own dreams. When he left his job as a doctor to become a firefighter and EMT, I was both shocked and excited.

-Richard Webber
There were so many moments where I did not like him as a character but overall, I've loved seeing him grow throughout the series. There are a lot of things I can say about his character and all of his plot lines but I also loved that he grabbled with the decisions he has made. I wasn't surprised when Maggie Pierce is revealed to be his and Ellis Grey's daughter but I do like how he handled the situation. He'd never had a child of his own so having her in her life meant a lot to him but it also brought back the fact that he didn't leave Adele for Ellis.

-Arizona Robbins
Oh, boy was I unsure of this character. I loved that she was bubbly and fun and was just happy around everyone and I wasn't sure where they were going with her. But lord am I happy that she and Callie became a couple because I would've been really disappointed if they hadn't. Her storyline with her leg amputation was a really rough one to watch but I'm assuming the depiction was well done. There's also hope in my mind that she and Callie ended up together.

-Callie Torres
Callie ended up being such a great character and I really loved watching her on screen. I hated how George treated her but I loved that she was able to work through her pain surrounding him. She eventually became such an integral part of the family. However, I think that once Penny came into the picture, everything went down the hill. I understand that love is important and we can't help who we fall in love with but I felt like it was incredibly incentive of her to not say or do anything during the dinner. I know that this was all a big part of the writers and you have to add drama in somewhere but lord, I was not happy about it. Either way, she and Arizona ended up together in New York with Sophia.
-Lexie Grey
There were not many characters whose death on this show that got me but the day Lexie Grey died, I cried like a baby. She was such a sweet and king soul and I loved having her on the show. Her relationship with Meredith was one of my favorites of this entire show. Meredith has always been alone and she's never felt the need to have another family (or so she says) but she can't get rid of Lexie. I also loved her relationship with Mark Sloan and how she grew as a person. It wasn't always easy for her to do so, but she did and I loved every moment.
-Nathan Riggs
Merthan all the way, man, and I will die for this ship. I figured that it was too good to be true but I really appreciated how much Nathan and Meredith had in common. But their shared pain was not the only things that they had in common which really allowed them to bond. He was also just very good with other characters in the show and I especially loved his friendship with Owen and Arizona.
-Mark Sloan
I didn't think that I'd have him on this list but he won me over by the time he died. When he was introduced to us, I didn't want to like him at all. He slept with Addison when she was still pregnant! His best friends wife! But seeing him grow up as a character was such a fun time. I especially loved his mentorship with Jackson Avery because you got to see a side of his character that we normally don't. I was so sad that he died but in my mind, he and Lexie are together in heaven. Like with Addison, I do have a fine line with cheaters so I won't ever completely love him.
I'll have the next two posts about Grey's coming up but let me know who your favorite characters are in Grey's Anatomy! Are any of the ones on my list also on your list? If so, which ones? Are there any characters that you love that aren't on my list?