I love watching shows. Like, I *really* enjoy watching shows. I keep up with the newest shows that are premiering either on television or a streaming service and usually give them a chance or two. There's something about telling stories on the small screen that just appeals to me. But I'm also an avid re-watcher which is both good and bad. It's good because it allows me to delve into a world I love and really enjoy myself if nothing new catches my eye. It's bad because I will spend far too much time re-watching shows instead of finding new ones. So here are a few of the shows I've been watching lately, new and old.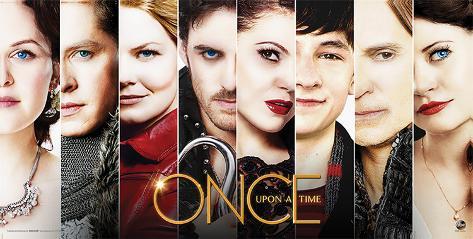 I distinctly remember sitting in front of the TV watching this show premier. It blew me away with the writing and costume and locations and just about everything was perfection. As with most shows, there were moments that didn't work and plot became too convoluted. When season 6 aired I was hoping that it would be the end of the series but they brought it back for a (disastrous) season 7. However, my brother started re-watching and I couldn't help but get in on the magic. I'm now on season 3 and the magic hasn't left yet (Zelena is one of my favorite characters of the show and she's just been introduced) but at least I know what's going to happen.
There's so much I can say about this show. I don't remember how I came across this show but it was on Netflix and I gave it a go. I really enjoyed it but there were moments in the show that I knew weren't going to be good. In my re-watch I picked up various aspects of this show that didn't work and other aspects gave more a better appreciation for it. All in all, it's not a bad show and I would recommend it to people if you're looking for something light and fun. I watched up till season 5 and I'm not sure that I will be finishing the series for the second time. After what happens in the season 4 finale, season 5 was a huge let down and it got slightly better in season 6. It wasn't enough to restore my faith in the rest of the show.
I don't know why I had an urge to re-watch this mini-series but I'm so glad I did. I never read Little Dorrit, Charles Dickens isn't my favorite author, but I came across this mini-series and binged it in a day. Little Dorrit is complicated and there are a lot of different story lines that intertwine in ways that you don't expect. If you've ever read a book by him, you know what I mean. I really enjoyed Claire Foy in this role and it's very obvious that she can embody just about any character. I would highly recommend this series to everyone.
Season 4, my second least favorite season (season 3 was worse but not by much), has finally ended and I'm not sure how I feel right now. There were some incredible moments when it comes to this show and I still love Claire and Jamie to pieces but I wasn't as invested in this season. Outlander has been renewed for seasons five and six so there's more to come from the Frasiers but I don't think I will be watching as diligently as I did these past four season. If I'm honest, I don't think that Seasons 1 and 2 will ever be toped in terms of just how good the show was.
I didn't watch the original show while it aired (obviously) but I binged it when it was on Netflix and I really enjoyed it. It was such a 90s show and I loved it. Roswell, New Mexico the reboot of the show on the CW is…interesting. There are so many great aspects of the show: Max and Liz and the rest of the charters are older, Liz is Mexican American (whereas her character was white-washed in the original series) and has to deal with her undocumented father, and the culture surrounding aliens. I don't love it as much and I think it's because this show doesn't have its footing yet. Roswell, the old show, knew what if offered it's audiences but Roswell, New Mexico does't yet. I'm wary but I will keep watching. Hopefully something good comes out of it.
Have y'all watched any of these shows? Do you want to?