Writing reviews for the books I read was my introduction to blogging and I am always thankful to have found this amazing community. Even though I stopped posting reviews in 2016, I carried out my love for talking about books into every blog I've had since. Thus, it only made sense for me to create a feature where I could talk about any and all of the books I've read (or attempted to read). So here's to the first round up of young adult novels I've read thus far in 2019.
As soon as this book was announced, I was so excited for it! Demi sounded so much like me when I was in high school and as a lover of K dramas, I knew this was going to be a wild ride. And maybe it was a little too wild for my taste. While I appreciated that Maurene Goo really stood by the K drama inspiration leading to a lot of drama, I found myself tired of it after a while. It's probably because I'm so much older but certain incidents that happened in the book made me pause.
There's a reason we love K dramas and other types of shows: they aren't real and allow us to escape into their worlds. Taking that to heart, even when she knew deep down it was a bad idea, led Desi to do some very riciduclous and dangerous things. I understand in so many ways that she was a teenager and teenagers do ridiculous things but there were circumstances that just made me shake my head. I wanted to shake her and protect her from the bad and it just left me feeling some type of way. I guess it's because even when I was in high school, I was always the mom friend of the group so looking out for people has always been my thing.
But the shining light of this entire book, for me, was the relationship that Desi has with her father. For one. he's so present in her life and I loved that. Being Asian myself, I found so many mannerisms about her father to be so like my own but other aspects of her father made me envious as well. I appreciated that Maurene Goo wrote a father-daughter relationship that wasn't seeped in traditional Asian parents stereotypes. Showing the depth of differences in parents of the same culture was exceptionally done and extremely important.
I am genuinely so sad that this book and I didn't work out. At the current moment I have it down as a Did Not Finish (DNF) but I might return to it at some point in the year. Based around police brutality and the Black Lives Matter Movement, I think that Tyler Johnson Was Here is an incredibly important book to have. It's timely and gritty and shares perspectives that we really need during this time. All of that said, I couldn't really get into the book. I'm a character person so if I can't feel anything for a character, it's going to be hard to keep me interested. However, I will be giving this book another chance in the future.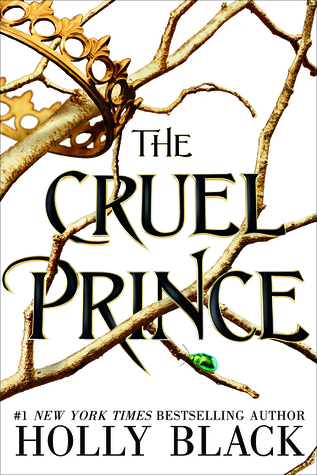 It wasn't the buzz around this book that got me interested in reading this but the hype that sounded the release of the second book in this trilogy. Everyone I knew was talking about how much they either loved The Wicked King or how excited they were to read the book. I fell into the hype and I should have known better.
The Cruel Prince is one of the many, many Holly Black books that I have attempted to read in the past but never actually finished. Her Spiderwick Chronicles were the only books I actually finished but nothing had captured me enough to completion. As I mentioned above, I am a character reader and if I can't connect to the character in some way, I will probably not like the book as much. When it came to The Cruel Prince, there wasn't a single character I truly cared about. At times I liked Vee, Jude's sister and Oak, her baby brother, but otherwise none of the other characters appealed to me. Jude, our main character, was someone I should have loved–she was supposed to be fierce and kick ass–but I just didn't care about her.
If I'm honest I was bored out of my mind. The pacing of this book was extremely slow and even when there was action it didn't really leap off the page for me. As someone who loves (loves loves loves) politics in fantasy, I was hoping to love the politics of the world presented but I also didn't find myself liking it. After about eighty pages (out of 370) I was ready to put away the book. Suffice it to say, I won't be reading the rest of the trilogy and this will probably be the last Holly Black book for me. Sometimes it's time to know when it's time to say goodbye to a series or even an author and their work.