Alyssa Cole and her books have been an author that I've known about for a long time but only read recently. I've had An Extraordinary Union on my shelves for a while but it wasn't until A Princess in Theory came on my radar. I love fluffy, cute romances and there's something about romances with someone royal that gets me very excited. While I didn't love all of the books in the series, the Reluctant Royals series was worth every minute. I would highly recommend most of these books to everyone!
I don't know why I waited so long to read Alyssa Cole but here we are. I'm kicking myself for not starting this book earlier (I've owned it for a while now). Naledi is a woman after my own heart and I loved her so much. She's driven and smart and really pushes herself to be the best that she can be. She also doesn't have time for me (a mood) but it all changes when Thabiso comes into her life. Naledi has been hardened by her life experiences and even though she doesn't want that to shape all of the who she is, I love that she never shies away from what it has taught her. Coming to understand our past in order to better move on to our futures is so important no matter how much it hurts us and Alyssa Cole did a great job of showing this in Naledi.
Naledi isn't who Thabiso expected her to be and he has so many ideas built up in his mind about who she's going to be that their first meeting is *awful*. Watching Thabiso come undone by Naledi in the most unexpected ways was just a joy to watch. He's known as a wanted bachelor who is suave and good with the ladies completely be out of his element with Naledi added a great depth to their story.
Seeing Naledi and Thabiso work though their presumptions about each other was a delight. Breaking down walls and getting to know each other for who they truly are was such a great experience for me.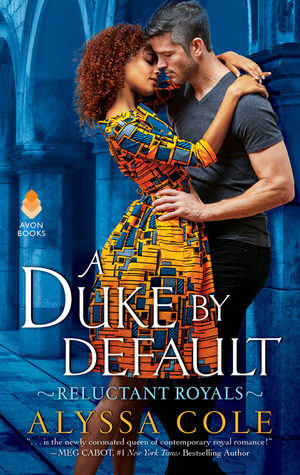 A Duke by Default by Alyssa Cole | Reluctant Royals #2 | Rating: 4/5
I'm not sure what happened with this one but I didn't love A Duke by Default as much as A Princess in Theory. It's sad because I live for hate to love romances. Portia wasn't my favorite in the first book and she wasn't who I wanted a book about but wow was I surprised. I loved how much she was able to learn about herself throughout the story. From getting away from the expectations put on her from her parents and the too-high expectation she had for herself to learning she has ADHD, Portia really worked on herself throughout this book. That was one of the things I loved about A Duke by Default and how Portia and Travis both connected to each other: we are often our worst critics and are usually the ones keeping you back. Maybe it's because I love Scottish men or what but I loved Travis so much. I love gruff men who have a heart of gold. Plus he's older and that just makes it even better.
Once Ghosted, Twice Shy by Alyssa Cole | Reluctant Royals #2.5 | Rating: 4.5/5
Y'all Once Ghosted, Twice Shy is such a cute and fluffy f/f novella that I don't really have enough words for it. I loved how the story went from before and during their second meeting. I love the idea of unexpectedly meeting someone you know you love but circumstances get in the way of you being together. From their connection to getting over their turbulences, I loved reading about Latoksi and Fabiola.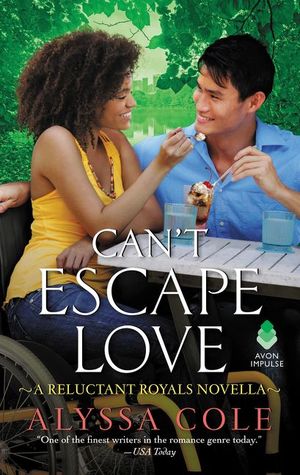 Can't Escape Love by Alyssa Cole | Reluctant Royals #2.6 | Rating: 4/5
When it comes to romance novellas, I always have to read them with a grain of salt. I'm not the biggest fan of insta-love and when it comes to shorter stories about people falling in love, there is usually some sort of insta-love involved. I hesitate to call Can't Escape Love a second-chance romance since Reggie and Gus don't meet until this story even though they've known each other for a while but I'm sure some would. My qualms aside, I really enjoyed Can't Escape Love. I loved seeing the diversity in this book and how both characters interact with their respective differences (Reggie and her disability and Gus and his autism). Reggie and Gus had the cutest, fluffiest romance of this entire series with very little drama or conflict.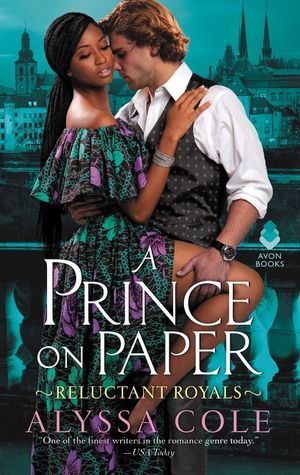 A Prince on Paper by Alyssa Cole | Reluctant Royals #3 | Rating: 2/5
I was so beyond excited for A Prince on Paper but I am shocked as to how far it fell for me. I love the cover so much but there wasn't a lot going for it under that gorgeous cover. For one, I felt like Nya's characterization was all over the place and it was hard to get a feel for her. As someone who understood (to a certain degree) her abuse, I felt like there should have been some talk about unpacking and unlearning from her abuse. Nya should have gone to get therapy to help her better adapt to a world where she didn't have to face that level of abuse.
Sexuality is a big aspect of this book and certain parts of how Nya and Johan were written gave me the impression of their sexual orientation. However, I wish that there would have been more explicitly stated aspects of the book. 37% into the book, Nya states "I don't think I can feel that way about a man without knowing him for some time" which read as demisexual and as someone who identifies as demisexual, I was hopeful for the representation. After being left overly confused by the representation and certain aspects that felt off to me, I will say I didn't think this was a positive or even a good representation of demisexuality. I was also left feeling annoyed after Nya refers to Johan's penis as "eggplant emoji" for no reason what so ever. Does she call it an "eggplant emoji" because she's shy/naive or is it coded into her demisexual orientation? In terms of being shy/naive, why would you call it an "eggplant emoji" to begin with? Again, had it been explicitly stated, there would be more to this conversation but the word is never used in the entire book and there is nothing else said expect what I quoted. I felt like I should have left reading this book with an understanding of what demisexuality to someone else.
Another aspect that didn't work for me was the made of language for Johan's country of Liechtienbourg. Why is the language a bad mix of German and French? Why not have him speak both German and French but have one language he uses more often. This is usually how many people in Europe speak several languages. A study abroad friend from Germany lived near the border of France and was able to learn both languages on top of English. The official language of Liechtenstein (which is what I immediately thought of when I heard this made up country) is German. The Swiss people also are a majority German speaking group. But neither are German. Or go the route of Austria and have the people speak German (or French) that is mostly found within that country (the official language of Austria is Austrian German).
I got to 47% in this story before I had to put it down. I know others have liked A Princess on Paper and have been able to look over certain aspects of the story that I didn't but it is what it is. Alyssa Cole is still an excellent writer and I will always like her work.